The fourth and final symbol in Usui Shiki Ryōhō is referred to as the master symbol, or by its mantra, Dai Kō Myō. Like symbol three, it is composed entirely out of kanji, which are characters used to write Japanese. Reading the kanji gives you the mantra. These three kanji, which are in common use in Japan, are:
大 dai large, big or great
光 kō ray, light, shine
明 myō clear, open, bright, radiance
The most common way to translate this set of three kanji is great bright light, which we understand as the radiance of deity. This means different things depending on your perspective. It could be the radiance of Buddhist deities, the light of the Universe, or in Jewish and Christian theology, the Shekinah.
What you are meeting right now is the very heart of Reiki. It brings the full empowerment and blessing of deity. It has no substitute or equivalent. Returning once more to our theme of unity, this symbol is the key that joins you with the ultimate source of all that is. It invites you to merge fully with the phenomenon of Reiki, to be Reiki, to finally know no separation. This my friend is the moment when you come home.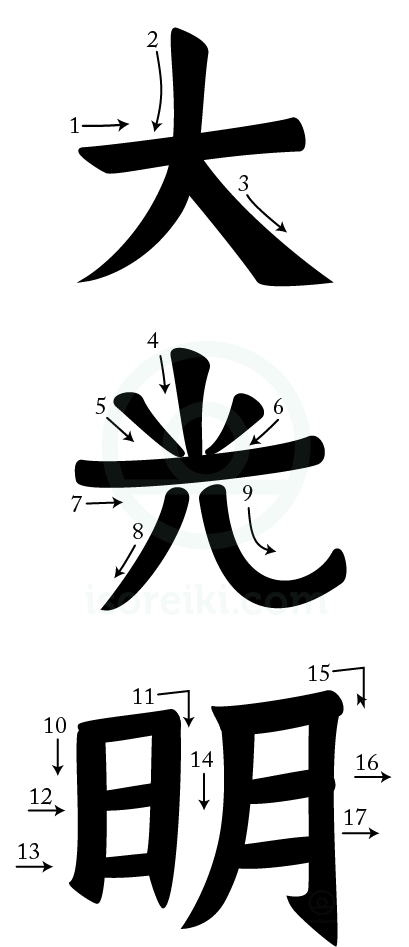 The story tells that Mikao Usui stood in the market place, holding a torch that burned in daylight. While the onlookers laughed, he remained strong, inviting any who would know the light to join him. Be strong, be positive, and be joyful, for yours are the keys to the kingdom.
Here is how you can use this symbol:
to bestow the blessing of deity on others
as a tool during treatment
as a focus for meditation
to cleanse and bless spaces, objects, water and people with the unity of all divine love and power
to initiate other people into the mystery of Reiki.
The Non-Traditional Master Symbol
Some master-level Reiki practitioners use the following non-traditional master symbol. Before you read any further, take a moment to feel its vibration.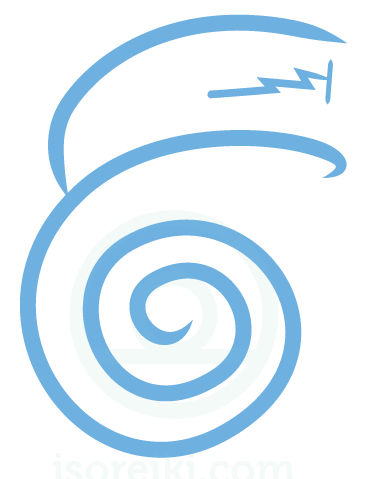 This symbol was introduced into Reiki by Diane Stein in her book Essential Reiki. It bears no relationship to the traditional master symbol that was used by Mikao Usui.
This symbol has not traditionally been a part of Usui Shiki Ryōhō, but that does not preclude it being useful. If you feel a strong affinity with this symbol, you should do further research into its use and meaning.