Using this symbol connects you to your universal identity, and reminds you that there is fundamentally no difference between what is you and what is not you. Drawing this symbol brings the power and harmony of the entire universe to wherever you choose to put it.
This symbol represents the unity and completeness of the universe, and so is called the universal symbol. It is also known as the power symbol, or alternatively by the mantra, cho ku rei. You can use it to:
increase the power or flow of Reiki to a specific area
focus Reiki on a specific location or intention
bring harmony to situations of conflict
bless and cleanse food, drink or possessions
protect journeys, objects or spaces
The Universal Elements
The universal symbol represents seven elements of creation: consciousness, light, earth, water, fire, air and space. Understood this way, consciousness, which is the first part of the symbol (the horizontal stroke), descends to the physical realm as light (the vertical stroke). This then manifests as the remaining five elements, moving together in balance and harmony. Earth, water, fire and air revolve in an anticlockwise direction around space, which is in the centre. This movement is encoded in the symbol through the anticlockwise spiral stroke.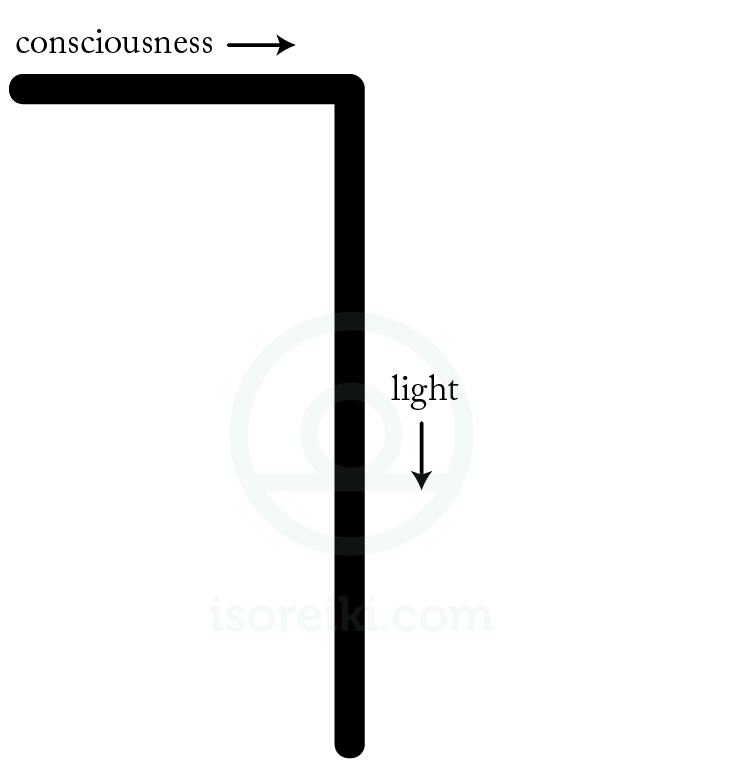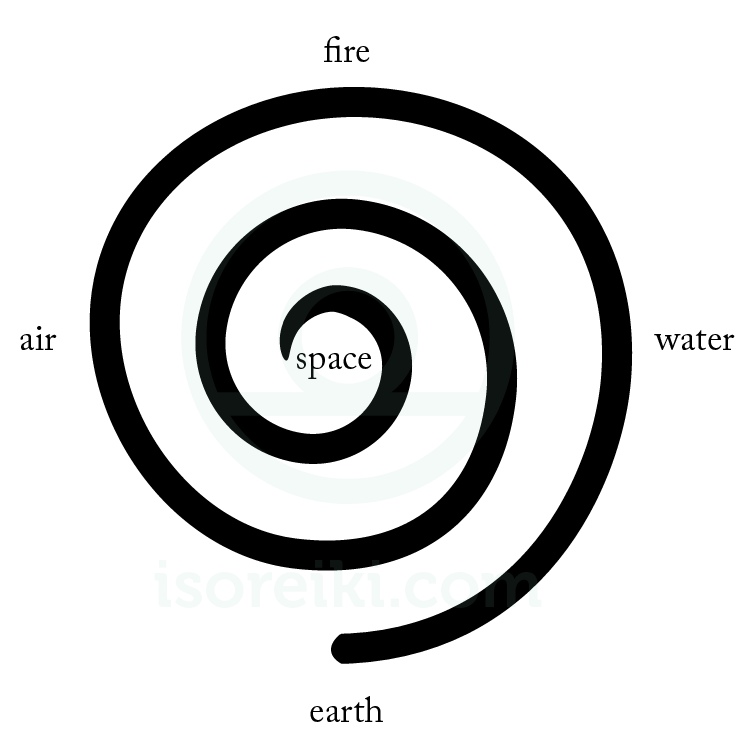 Earth, water, fire and air can be considered yin, representing the forms of creation. And the centre, space, can be considered yang, representing the animating force of potential. The union of the yin and the yang, and the physical and the spiritual, are brought into focus by this symbol. When we invoke the symbol we affirm our ultimate connectedness with all.
You can see that the five elements, and the anticlockwise motion, can be found in the Tibetan swastika, which again represents harmony and balance in the five elements. If one of the elements falls out of balance, illness follows. We use the universal symbol to re-align and re-balance the energy system.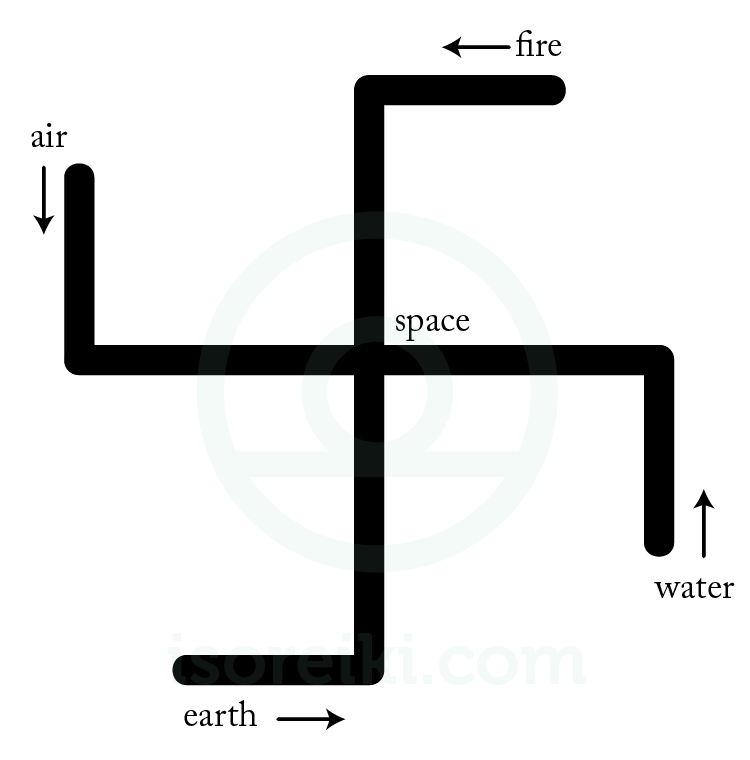 The Seven Elements
The following table shows the seven elements and their positive and negative associations1The following table shows the seven elements and their positive and negative associations. When you are working with a client and notice one of the negative associations, meet it with its opposite. This will disarm the power of the negativity and help draw them back into balance. For example, if the client shows hatred, meet it with acceptance and compassion.. When you are working with a client and notice one of the negative associations, meet it with its opposite. This will disarm the power of the negativity and help draw them back into balance. For example, if the client shows hatred, meet it with acceptance and compassion.
| | | |
| --- | --- | --- |
| Element | Positive Aspects | Negative Aspects |
| Consciousness | Awareness, Emptiness | Ignorance, Attachment |
| Light | Intuition, Self-Reflection | Poor vision, Denial |
| Space | Truth, Expression | Deception, Restriction |
| Air | Calmness, Balance | Anxiety, Jealousy |
| Fire | Compassion, Acceptance | Hatred, Rejection |
| Water | Movement, Action | Apathy, Indifference |
| Earth | Freedom, Generosity | Fear, Grasping |
Using the Symbol
When you draw the universal symbol over a client during treatment you affirm balance and connectedness, both within this person, and between this person and the universe. You affirm their intention to become whole and to be in harmony with the universe.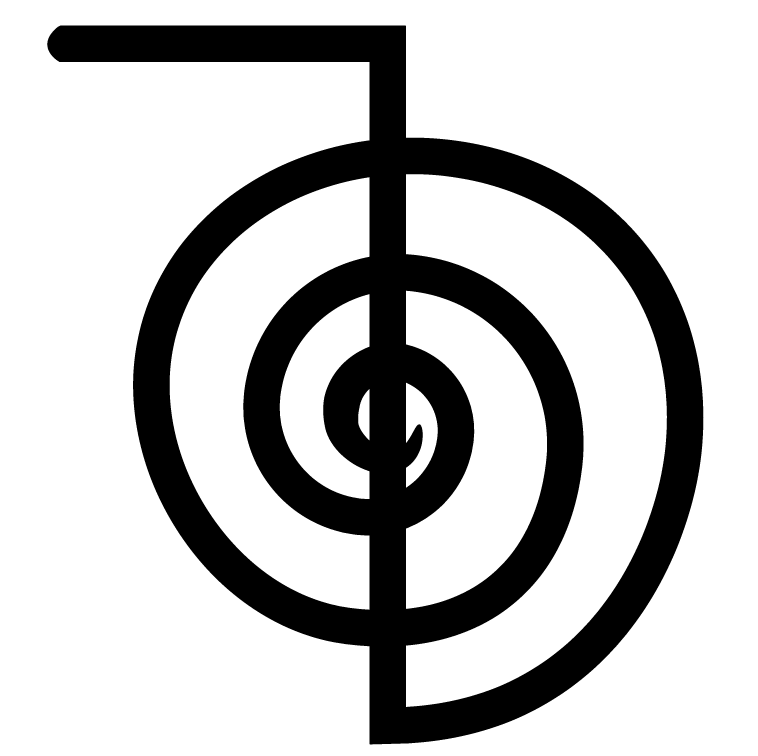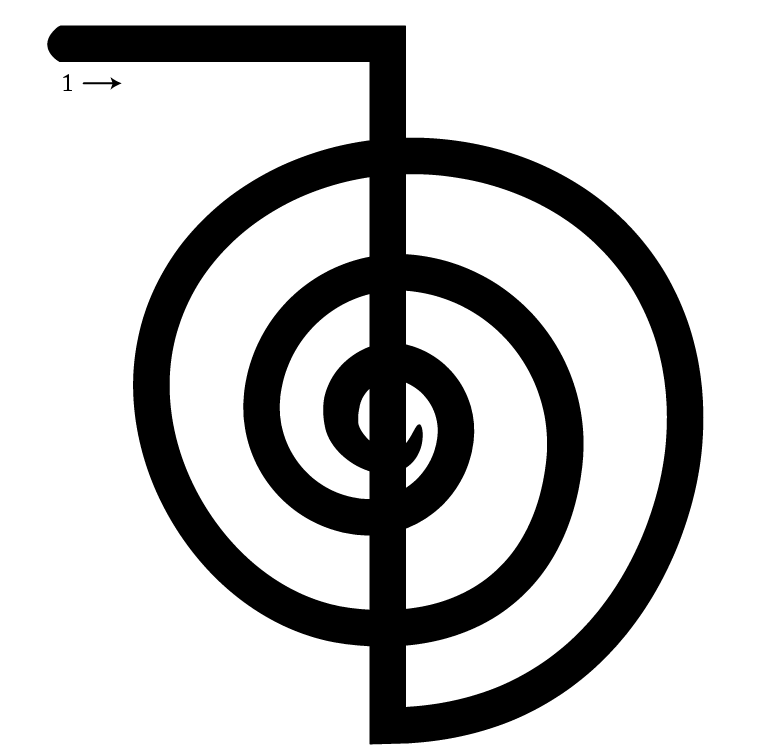 In Treatment
You can now draw the CKR into your non-dominant hand before gassho meiso. This is a great way to start a treatment.
To start and finish the treatment:

When you are ready to commence chiryô (the treatment), you can draw the cho ku rei over the body to establish a strong energy connection between you and the receiver. There is a video to demonstrate this.
Trace the cho ku rei in reverse, outwards from the centre of the body at the end of the session to cut the connection and seal the treatment.

Use the cho ku rei at any time during a healing when you sense an imbalance, blockage or lack of energy.
Draw the cho ku rei into the chakras to help harmonise them.
In Daily Life
Whenever you wish to set an intention, empower it with this symbol. For example, if you are sending a letter to somebody you can put energy into the letter (by placing it between your hands and letting Reiki flow) and then seal it with this symbol. When the person receives the letter they will also receive the energy enclosed in it.
The symbol is used for physical protection, for example to protect belongings. Just draw the symbol over the object.
Draw the symbol at the beginning of journeys to safeguard them, bringing the energy and guidance of the universe to them.
Conflict
When you find yourself in conflict with someone, you experience separation. Most often you will feel this as constriction in your solar plexus. The CKR, which reminds us that we are all woven out of the same elements, and that we are all one, is the perfect remedy.
Visualise the universal symbol and direct it towards a person, or between you. You might put it on your own third chakra too. The power of the symbol to quickly dissolve all kinds of conflict is often surprising. For example, if I feel threatened by a dog, I visualise the CKR between us. The fear and conflict melts away instantly.
The intention here is to re-affirm your connection to the other person and to release emotional charges that have built up. It is not about using the power of Reiki to control a situation. When employed at just the right moment, the CKR can bring understanding between you, and the universal perspective can help you step back and laugh about whatever issue you were getting caught up in.
Pronunciation of Cho Ku Rei
Cho ku rei is a term from Shintô and Shugendô.
cho (rhymes with 'block'.
ku (like the 'coo' of a bird, but very short. Cho and ku are pronounced together, as one word.)
rei (as in reiki. It rhymes with 'ray', but there is no 'r' sound in Japanese. The sound is like a mix between 'r' and 'l'. )
If you are interested in pronouncing the Japanese words correctly, visit this website for recordings made by a native speaker.
Exploring the Mantra
To understand the mantra, we need to get a bit technical. In Japanese, words can be written with kanji (using Chinese characters) or with kana (letters that describe sounds rather than meaning). When we know the kanji for a word, we know its meaning. When we only know the kana, however, we can't be so sure. The third and fourth Reiki symbols are both formed of kanji, which means we can analyse their meaning and intention simply by understanding which characters they are composed of. The universal symbol and mental-emotional symbol, however, are not formed of kanji.
Since there are no kanji within these symbols, we need to look elsewhere for clues about their meaning. One thing we can analyse is the symbol's mantra. The mantra of the universal symbol is choku rei. When Western Reiki researchers went to Japan to find out how choku rei was written, they found, perhaps to their dismay, that rather than being written in kanji (which would have given the mantra's meaning) it was written using kana, which just describe the sound. So again we are left guessing what the symbol and its mantra originally meant.
Even though it's normally written in kana, there are actually two kanji that are quite likely to accurately represent choku rei2See discussion by James Deacon at aetw.org/reiki_symbolsP.html and Frans Stiene at ihreiki.com/blog/article/exploring_the_mantra_choku_rei.. The kanji in question are 直霊, which can be translated as direct spirit(s). (The second character, 霊rei, is the same character that we find in the word Reiki.)
Before we go into detail on this, we need to understand that there are two ways of pronouncing kanji. Kanji originate from Chinese, so one way of pronouncing them is called the on yomi, or the Chinese-derived reading. The other way of pronouncing them is the kun yomi, the native Japanese reading. Both are used by Japanese people. When we look at our kanji 直霊 for choku rei, then, there are at least two possible ways to read them:
直霊

The on yomi (Chinese) reading is choku rei.

直霊

The kun yomi (Japanese) reading is nao hi (amongst other possibilities).
According to Frans Stiene there is only one group of Reiki practitioners that uses the kun yomi reading, nao hi. This is the school of Mrs Yamaguchi. All others use the on yomi reading, choku rei.
Choku rei or naohi means straight, direct, or correct spirit3Exploring the Mantra Choku Rei. Frans Stiene (2014), ihreiki.com/blog/article/exploring_the_mantra_choku_rei.. This accords with Hawayo Takata's interpretation of the symbol's usage, which was, in her own words, "put the [spiritual] power here"4The Reiki Symbols. James Deacon (2004), aetw.org/reiki_symbolsP.html.. It also fits our understanding that we use the universal symbol to focus Reiki energy on a specific point.
Stiene explores another understanding, that practising with the choku rei cultivates a directness and honesty within you. It is about cutting away distractions, finding the true self within, and seeing things as they really are. This encompasses not just personal honesty, but direct realisation of universal truths:
"Seeing things as they are is about transcending duality; it's about not labeling things that may come up as a result of a Reiki treatment or practice as good or bad, positive or negative, etc. It's about letting go of the idea of a "giver" and "receiver" of Reiki. Seeing things as they are is about seeing from your True self to the True Self of the other person, animal, tree, or object; the more that we cultivate this direct/straight spirit the more we can connect to all things in life, heart to heart, without any labeling whatsoever. In this way we realize that we are all One."
Choku Rei and Naohi
James Deacon has done extensive research into the roots of Reiki, which he has made freely available on his website, aetw.org. He found that Masahisa Goi, the founder of a Japanese religious group called Byakkõ Shinkõkai, wrote6The Choku Rei Trail:
"In the beginning, Great God took His body, His light, and divided it into various rays of light. He then functioned seven rays of light to operate as the power source of human beings. These seven rays of origin, which I call Chokurei (direct spirits from God), are the image of God working in this world of mankind…"
You can thus see how choku rei reconnects us with the truth: our Oneness with all things, as these seven rays are part of us all.
It is likely that Goi took the word choku rei from Omoto Kyo, which was a spiritual group that was founded in the early 1800s in Japan7The Choku Rei Trail. It incorporated elements from Shinto, Buddhism and Christianity. This group uses the pronunciation nao hi rather than choku rei. Thanks to James Deacon's dedicated research we are gifted with these precious words on nao hi, written by Onisaboro Deguchi and entitled Divine Singposts8The Reiki Symbols: Choku Rei and Nao Hi:
"God endows human beings with naohi and thereby He gives the human soul limitless power. Thus does the body and soul of those in whom naohi functions fully shine with a beautiful light."
"The power which stirs and activates the soul failing through tiredness and distress is naohi."
"That which is able to save your body and soul is naohi given by God."
"True wisdom is that which one does not acquire from learning, but that which God gives, that is, the light of naohi."
"May all of you value naohi most highly; do not wander in darkness, but turn yourselves to light and follow the path."
"When in your body there dwells naohi, though you may be weak, you need not shrink with fear even before the strongest enemy."
"If you are favoured with naohi, even if you have lost the way in the dark you can find the light and true path."
"If you are favoured with naohi, your prayer to God becomes certain and true; happiness can be yours, because your heart conforms to God's heart."
In the characters 直霊 we see the power of the universal symbol, but we go beyond that. We approach the heart of Reiki.